The Clearwater Festival is a great place for children and families.  Throughout the festival grounds you'll find activities for you and your children to enjoy!  Here is some of what you'll find throughout the festival weekend:
Family Stage  Features scheduled performances by regional and national talent targeted towards children.  Located adjacent to the Children's Area, the Family Stage is the ideal place for a laugh, smile, and a sing along.  Please visit the Stage Schedules in May to see who's playing and when.

Children's Area  Offers children a distinctly creative and uniquely inspired activity area for children and parents alike.  The Children's area provides a wonderful outlet for our child and 'tween festival-goers to release their energy in a creative and positive way.  Some of the Activities you'll discover:  Face Painting, Hair Wraps, Mind Maze, Mask Making, Bubbles.  While the Children's Area is fully staffed during the festival, it is not designed or equipped to provide child care.  Children 12 and under must be accompanied by an adult at all times.
Discovery & Tideline Education Tents  Two separate education tents feature interactive educational exhibits and displays, including Hudson River fish and macro invertebrates.  This is the place to learn about the far reaches of the Hudson River watershed or touch the sandpapery skin of a hog choker.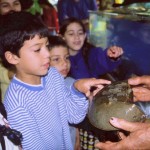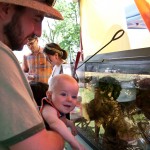 Todd's Musical Petting Zoo  From didgeridoos to shofars, mountain dulcimers to banjos, accordians to zithers, the 'Zoo is a fully interactive, hands-on exhibit where everyone can try an instrument for the first time.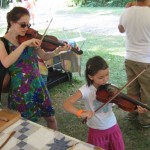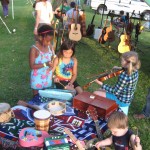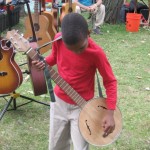 Bash the Trash – Instrument Building Workshops  Visit Bash the Trash's Instrument Building Stations to make musical instruments from junk – and you get to take them home with you!  Check out our designs, then get ideas of how you can make your own trash band!
Arm-of-the-Sea Theater  A contemporary mask and puppet theater company performs a large scale production, fusing visual poetry with original music and indigenous drama on the edge of the Hudson River.
Beach Combing & River Seining  Get your feet wet with net seining in the river and see what creatures call the Hudson their home.  At the end of the day, help release creatures back from where they came.   Walk along the river's edge with a guide and learn the stories of found objects.
Jugglers, Clowns, & New Vaudevillians  Jugglers amaze, entertain, and teach the art of juggling in the Juggling Area.  Clowns, mimes and acrobats goof around the festival grounds, inspiring laughter and amazement.