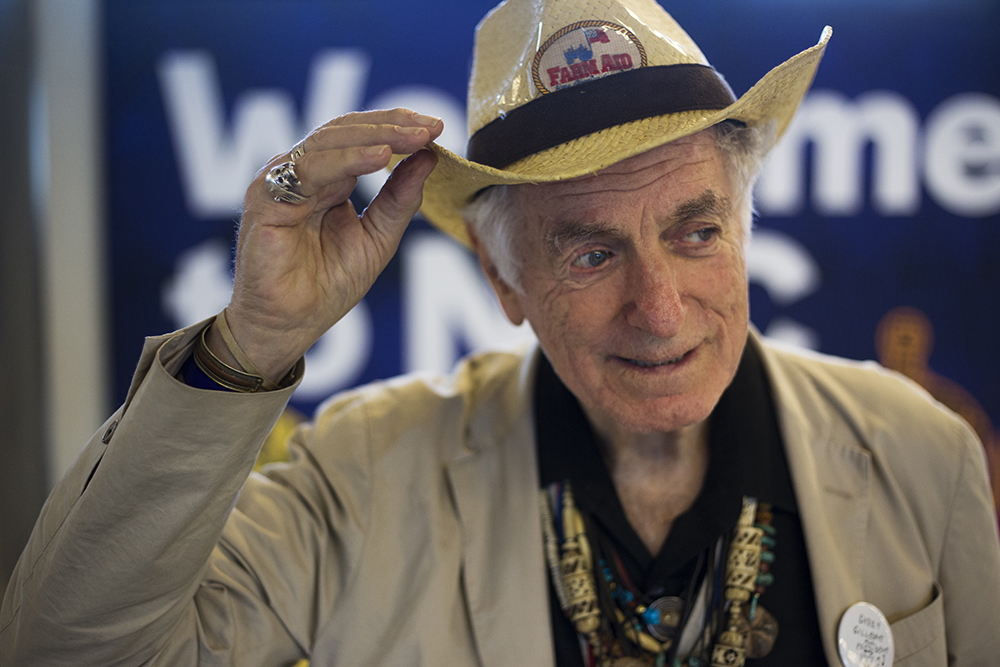 David Amram
DAVID AMRAM has been described by The New York Times as "A One-Man Folk Festival," and for being "multi-cultural before multi-culturalism existed!" ,  while the Boston Globe hailed him as, "The Renaissance Man of American Music."  He is a Folk and Jazz Pioneer, who sings and scats, plays 35 instruments, and is an acclaimed classical composer whose compositions incorporate his lifetime participation in the worlds of Jazz, Global Folk, Latin, Classical, Middle Eastern, and Native American music.  Since the 1950s, David has collaborated with many folk luminaries, such as Pete Seeger, Bob Dylan, Willie Nelson, Odetta, Oscar Brand, Theodore Bikel, Ramblin' Jack Elliot, Judy Collins, Peter Yarrow, Noel Paul Stookey, Tom Paxton, Phil Ochs, Josh White, Jr., Eric Andersen, Patti Smith, Jerry Jeff Walker, Arlo Guthrie, John McEuen, Steve Earle and Langhorne Slim. Amram knew Woody Guthrie since 1956, and was commissioned by Woody's children Nora and Arlo, to compose a new symphony, THIS LAND: Symphonic Variations on a Song by Woody Guthrie, which was premiered in 2007 and recorded with Amram conducting the Colorado Symphony in 2012, as part of Woody's Centennial Celebrations. The album was released in 2014 by Newport Classic Records and now also available on Vimeo On Demand. In 1997, he was elected into the Kerrville Folk Festival's Hall of Fame.  In 2012, he was awarded the Pete Seeger Power of Song Award; in 2016 the first Spirit of Farm Aid Award for his 30 years of performing with Willie Nelson's Band for their annual concert for family farmers; and in 2017, the Folk Alliance International's Lifetime Achievement Award.
2017 Folk Alliance International video tribute of David Amram for his Lifetime Achievement Award – https://www.youtube.com/watch?v=f7iNryqB1TM
Over a seven-decade career in the Jazz world, Amram collaborated with Dizzy Gillespie, Charles Mingus, Lionel Hampton, Charlie Parker, Oscar Pettiford, Mary Lou Williams, Gerry Mulligan, Stan Getz, Paquito d'Rivera, Tito Puente, Earl `Fatha' Hines, Betty Carter, Ray Barretto and Wynton Marsalis.  His recent Lifetime Achievement Awards were from New York's Highlights in Jazz, and from the Oklahoma Jazz Hall of Fame's Jay McShann Lifetime Achievement Award.
Amram was the first composer- in-Residence for the New York Philharmonic, Joe Papp's NY Shakespeare Festival, and the Lincoln Center Repertory Theatre Company.  He has composed more than 110 symphonic and chamber music pieces, in addition to the scores for Broadway plays, and major films.  His classical collaborations have included work with Leonard Bernstein, Dimitri Metropoulos, Sir James Galway, Pinchas Zuckerman, William Steinberg, Rudolph Serkin, Eugene Ormandy, and Elmira Darvarova.  On January 28, 2019, he conducted Elmira Darvarova and members of 30 elite symphony orchestras around the world at Carnegie Hall, for his work Elegy for Violins and Orchestra.   
 In February of 2019, England's Moochin' About Records completed the international release of  the  5 CD Box Set of DAVID AMRAM's Classic American Film Scores (1956-2016).  The box set includes seven of his major film scores, including Elia Kazan's  Splendor in the Grass, and The Arrangement; John Frankenheimer's The Manchurian Candidate and The Young Savages; and Jack Kerouac's Pull My Daisy, plus two of the scores he composed for the theatrical Broadway productions of  Arthur Miller's After the Fall, and Budd Schulberg's On the Waterfront.
In 1957, Amram and Jack Kerouac presented New York's first-ever public Jazz & Poetry performances, which led to further collaborations with Kerouac, Neal Cassady, Allen Ginsberg, Lawrence Felinghetti and Gregory Corso. The documentary film DAVID AMRAM The First 80 Years was released in 2011 and is now available on Vimeo On Demand.
His fourth book, DAVID AMRAM: The Next 80 Years will be published in 2020 by Routledge/Taylor & Francis, who have also published his other three books as well as his Forewards to books by Woody Guthrie and Pete Seeger.
David Amram has been described as "A living legend, one of the great raconteurs of our time, and the real "ZELIG."
At 88, In addition to writing new music, he continues to perform around the world as a guest conductor, soloist, multi-instrumentalist, band leader and narrator in five languages.