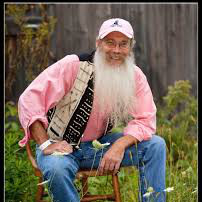 Davis Bates
Davis Bates' performances are a mixture of family, Native American, international and regional songs and stories. They speak of empowerment, history, spirit and the environment.
Pete Seeger called Davis "thoughtful, creative, human, and a fantastic storyteller." Davis' traditional and participatory style of telling empowers and encourages audiences of all ages to join in the fun, and to take the stories home with them to share with others. He also encourages listeners to find stories in books, and to remember and tell stories from their own family and cultural tradition.
Davis Bates has been telling stories for over thirty-eight years, in schools, libraries, and community settings around New York & New England and across the country. His recording Family Stories won a prestigious Parents Choice Magazine Gold Award, and received a starred review by the American Library Association's Booklist magazine. Davis lives in a small hilltown village in western Massachusetts, and when he isn't performing or collecting and learning songs and stories he spends his time gardening and working on various pollinator preservation projects.
Read more at his web site.