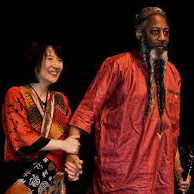 Eshu Bumpus and Motoko
Eshu Bumpus captivates his audience by telling a variety of African, African-American and World folktales leavened with music, humor and mystery.
Eshu is a renowned storyteller, an accomplished jazz vocalist and a master at physical characterization. He has performed on the Exchange Place stage at the National Festival (1998), and performed 36 sold out shows in 13 days at the Smithsonian (1997). After appearing at the 10 Annual Connecticut Storytelling Festival (1991), Eshu was acclaimed as," … a fresh, responsible and knowledgeable voice… distinct and compelling… the hit of the Festival.
Read more at Eshu's web site.