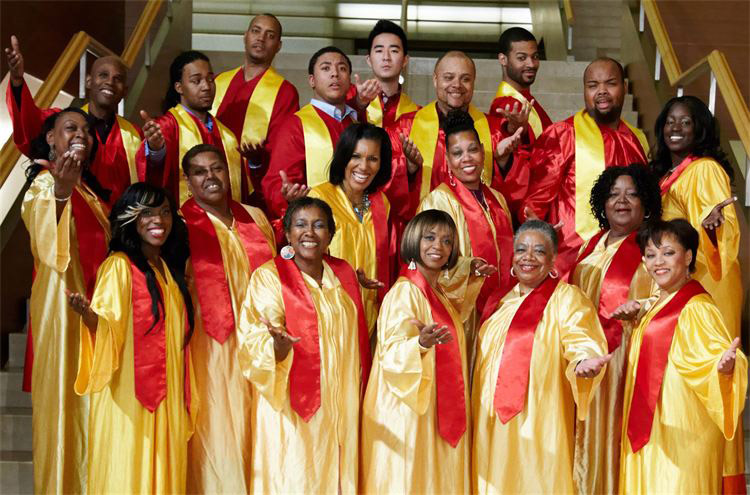 The Late Show's Gospel Choir, known as "The Best A Cappella Choir in NYC," and founded by Grammy-winning songwriter & Gospel songstress, Lady Peachena, was seen by millions of viewers worldwide singing on CBS TV's "Late Show with David Letterman," for 10 years from October, '95, to December 2005. This superb choir also went on two outstanding sold-out tours to 17 cities of Spain, in 2011.
In 2012, The Late Show's Gospel Choir sang on MTV'S "MTV Unplugged" with hot rock band, 30 Seconds to Mars. In 2014, the male singers of this choir sang with Jared Leto, lead singer of 30 Seconds to Mars on NBC's "Tonight Show with Jimmy Fallon." They were also featured on TRU TV & UPN 9 with comedian Billy Eicher's hilarious show, "On the Street with Billy."
The Late Show's Gospel Choir performed with 13 of Sweden's hottest singers at the world-famous Apollo Theater in New York City, NY, on 5/24/2016 in the dramatic 4-part TV docu-series spotlighting Gospel music's impact on R & B/Pop music in a highly acclaimed show, "En Kvall i New York," ("One Night in New York"), which aired on SVT TV in Sweden two years ago. Last year this choir was filmed in concert with a funny interruption from "Dracula," one of the stars on TRU TV'S "Impractical Jokers," a humorous episode that's been aired on TRU TV numerous times.
For 9 consecutive years, this awesome choir has won GigMaster's Rising Star Award for receiving the most gigs and the most revenue online. They have performed outstanding concerts of Negro Spirituals, Traditional & Urban Gospel songs at weddings, parties, and at corporate events all over America. For bookings of The Late Show's Gospel Choir visit their website at: www.LateShowsGospelChoir.com or email Lady Peachena at: peachena@aol.com. Her website is: www.ladypeachena.com
This phenomenal choir's debut CD, "God Bless America" is available at: http://store.cdbaby.com/cd/thelateshowsgospelchoir and their newly-released CD, "Jesus Lives in Me" can be downloaded at: http://store.cdbaby.com/cd/ladypchoir7