(Remember, festival volunteers are Clearwater ambassadors!)
Clearwater Festival Volunteer Fee is $62 per person and you can apply in person at the festival. Cash only, please!
Your volunteer fee includes benefits valued between $335 and $395!!
A free weekend festival and camping pass ($180-$240 value)
7 delicious and wholesome meals ($105 value)
Free parking for the weekend ($20 value)
Free festival t-shirt ($30 value)
Volunteer party (live band and song swap)
The opportunity to work alongside other like-minded festival volunteers for an average of 10 hours over the course of the weekend (priceless!)
Expectations
You are expected to act in good faith, arrive on time, serve your shifts honestly and act as a good-will ambassador for Clearwater, treating the audience and other volunteers with generosity and respect. On your application, you'll have to check a box saying you have read and accept the terms of our Code of Conduct. The Code of Conduct serves as a reminder for all of our Clearwater volunteers of our good faith policies. Thank you so much for helping us to make the Clearwater Festival a safe, beautiful experience for everyone.
Click here to read the Code of Conduct
Volunteer Camping is divided into "Quiet Camping", where there should be no noise or music after 9pm, and "Night Owl Camping", where music and visiting are permitted at any time. Everyone will be happier if you abide by these guidelines.
Your Clearwater Membership
A Clearwater membership is necessary to become a Festival Volunteer. Clearwater is a member-driven organization that brings environmental awareness, education and advocacy to thousands of people every year by introducing them to the Hudson River. Our members propel our effectiveness! Clearwater has an amazing 106' replica of a Hudson River sloop that sails up and down the river acting as a classroom and meeting space. Your Clearwater membership gives you the following:
Discounted Public Sailing Adventure Tickets onboard the sloop Clearwater (2 discounted sail tickets per Public Sail for individuals/6 for families),
10% discount on all Clearwater merchandise,
An opportunity to volunteer onboard the sloop Clearwater,
An opportunity to volunteer at the Clearwater Festival,
A subscription to Clearwater's newsletter, The Navigator,
Participation in Clearwater's Board of Directors elections,
Support of all of Clearwater's essential education programs which engage thousands of children and young adults every year,
Support of all of Clearwater's important and ongoing environmental advocacy work
$50 – Individual
$65 – Family
$25 – Limited Income/Student
Click here to Join or Renew your Clearwater Membership
For more information about the Clearwater organization, please visit:
www.clearwater.org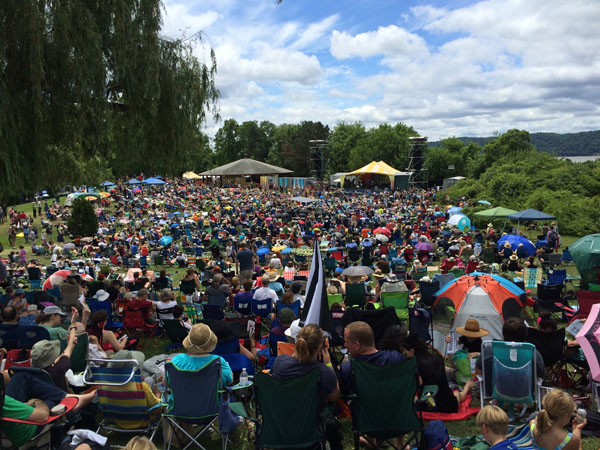 Children
Volunteering and children: When you are fulfilling your festival volunteer hours, it is important to remember that your non-working children who are under 11 years of age must be supervised by a parent or guardian who is not volunteering at that time. The food fee for non-working children is $35 per child.
The fee for 12-17 year old working children is $45 per child. These children must be accompanied by a parent or guardian on the same committee unless a committee coordinator has cleared it with the Volunteer Coordinator. They will be part of your family Clearwater membership or can become members on their own! The more members we have, the more effectively we can deliver our AMAZING CLEARWATER PROGRAMS and INITIATIVES!
Arrival and Departure
Plan to be at Reception at the Festival site in Croton-on-Hudson, on Friday, June 15th between Noon & 11pm to check in. Some committees need their volunteers to arrive earlier (see Committee Descriptions).
Please carpool!
Most volunteers complete their work and depart on Sunday evening. Some committees need their volunteers to stay later on Sunday or to work on Monday (see Committee Descriptions).
Dogs, Pets, Bikes, Fires
Dogs or other domestic animals (except working service dogs) are NOT allowed anywhere on the site, including Volunteer Camping. Please note that the Park permits dogs, but NOT on the Festival grounds. You will not be admitted into the Festival grounds with a dog.
Bicycles are hazardous in crowded conditions, even in Volunteer Camping, where young children may be playing and running. So, please, NO BICYCLES.
Fires in designated fire pits ONLY.
RV Camping
RV Camping area is full.
Questions? Call Linda at 845-265-8080 x7160 or email: volcoord@clearwater.org