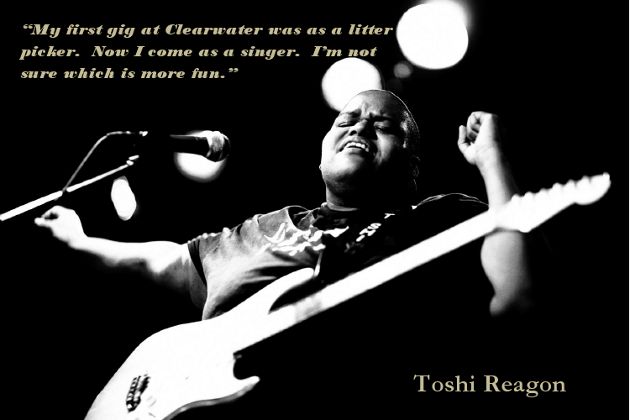 Thank you to all the volunteers who have signed up already for the 2015 Great Hudson River Revival. WE ARE NO LONGER ACCEPTING VOLUNTEER APPLICATIONS ONLINE. However, we welcome walk-in volunteers at the festival. Please see the Volunteer Coordinator Shameika Hanson on-site at her tent next to Reception for more information. You can contact her by e-mail at volcoord@clearwater.org or phone at 845-464-5913.
For festival goers, the Great Hudson River Revival is a wonderful music and environmental event. But for the volunteers, it's so much more! By volunteering, you become part of a warm, lively community that's connected to the Clearwater Festival in a special way, allowing you to share and celebrate our work for the river. Working as a volunteer and being a part of the festival's presentation will truly enhance your enjoyment of the entire weekend so please consider becoming one of our great festival volunteers!
Whether you are a new or returning volunteer, we hope you'll find all the information here that you need. Please read all the pages before you go to the Volunteer Application. Feel free to contact the volunteer coordinator if you have any questions or concerns.
Here is what you will find in the following pages:
Detailed information about the process of volunteering
Descriptions of all the committees to which volunteers will be assigned
The Volunteer Application form
The Volunteer Waiver form
Volunteer Donation Fee
Clearwater membership is required to be eligible to volunteer. Clearwater really is its members so we ask festival volunteers to support Clearwater's environmental work through active membership – please choose the category that's right for you. In addition, we ask you to pay $56.50 ($46.50 during the Early Bird signup period January 12 – March 6) to cover some of the expenses associated with the care and feeding of our many volunteers. Entrance to the festival alone is worth this much or more, and in addition you get meals, overnight camping privileges and a T-shirt.
Click here to Join or Renew your Clearwater Membership
Some festival volunteers contribute to a Volunteer Scholarship Fund to help subsidize people who can't afford the Volunteer Fee. If your financial situation is limited, please ask for part of your volunteer donation to be subsidized. (IMPORTANT: If you are requesting this subsidy, or if you want to pay by check, you cannot apply online.) Call 845-265-8080 x7160 or email us at volcoord@clearwater.org
Please proceed to the Volunteering Details for more information about volunteering.
REFUNDS FOR VOLUNTEER FEES ARE NO LONGER AVAILABLE