HERE COMES THE CLEARWATER FESTIVAL 2018!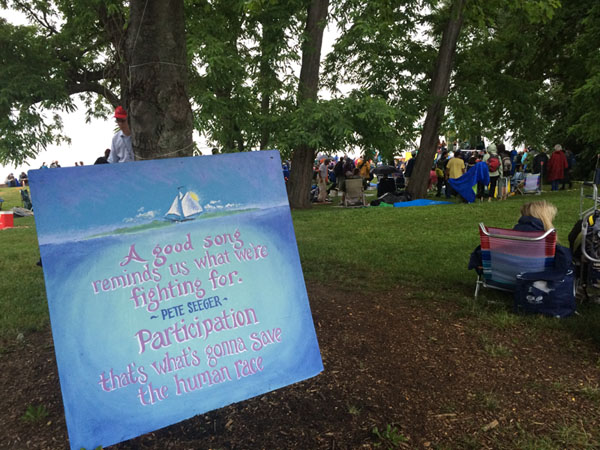 We'll need our FANTASTIC FESTIVAL volunteers to make the Great Hudson River Revival 2018 a tremendous success!
VOLUNTEER APPLICATIONS WILL BE AVAILABLE ON DECEMBER 18th, 2018
RIGHT HERE AND ON CLEARWATER'S WEBSITE!
EARLY BIRD PRICE IS $52
(until February 26th, then it'll be $62)
The Clearwater Festival offers a huge assortment of music, activities and family fun on the shore of the Hudson River at beautiful Croton Point Park in Croton-on-Hudson. It's much more than a music festival – it's an eye-opening experience into the wonder of a Hudson Valley treasure and resource. It brings environmental awareness and mindfulness to its attendees through the arts and through fellowship.
And it offers an opportunity to experience the festival as more than audience – as a Festival Volunteer.
A thousand amazing people work together as the "bones" of the festival. They are Clearwater Festival Volunteers. They select a committee to be a part of and then, alongside their committee-mates, create the structure, atmosphere and advocacy of the festival for two exciting days.
The committees are numerous and varied and offer volunteers a chance to learn or hone skills in areas such as Environmental Education, Environmental Action, Zero Waste, Access, Food Service, Children's Activities, and Ticket Taking.
There are over 60 festival committees that are available for you to select from.
The committee descriptions will be online by the end of this week.
There's nothing quite like working together to bring a festival to life. It's a pathway to building new friendships and solidifying old ones, a way to participate in the festival behind the scenes and enjoy everything it has to offer in the spotlight, a weekend adventure on the banks of the Hudson River – complete with fantastic food and amenities, and a chance to be part of something important and exciting.
Questions? Contact Linda Richards, Festival Volunteer Coordinator
at volcoord@clearwater.org or 845-265-8080 x 7160